Welcome to the Surf Splendor blog! It is an effort to collect and capture the conversations that spin-off from the podcast. Posts will be provided by listeners, David, and guests who have appeared on the show. Please leave comments at the bottom of this page, and send any blog submissions to hello@surfsplendorpodcast.com. Thanks!
---
"Continuance" film review, by David Lee Scales.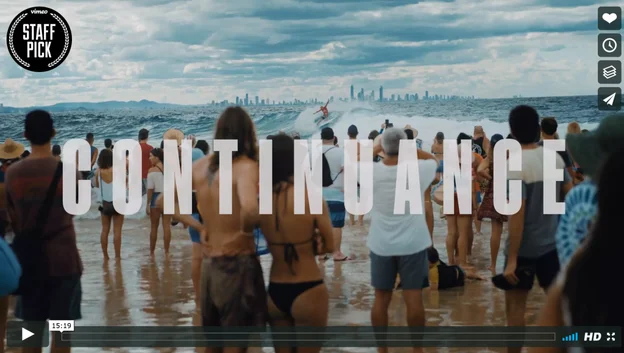 Kelly Slater's "Continuance" is a documentary series directed and produced by Alek Parker (not to be confused with former East Coast pro surfer Alex Parker) and sponsored by Kelly's entire portfolio of brands, credited are Outerknown, Firewire, and Kelly Slater Wave Co. Part 1 is a 15 minute video piece and it was released 2 weeks ago. The release for part 2 hasn't yet be announced. The piece opens with Kelly stating, quote, "sometimes you need to clarify and define something to state your intentions . . . I want to win a world title this year. I'm going to give it everything I got. There's been a lot of talk about me retiring . . . I don't have to give an answer to that." End quote.
The film is centered around the Quiksilver Pro Gold Coast event and showcases Kelly's progress through the event, his downtime with girlfriend Kalani Miller going to the zoo, him in the shaping bay with Tomo, him darting off on a quick strike mission prior to the event. It's punctuated with a series of confessional-style interviews with Kelly discussing intentions, struggles, and really it's heartwarmingly candid.
I get the feeling immediately, and because of Kelly's opening quote, that Kelly is using this documentary series to guide the narrative of what he is doing in life and with his career. Speculation about retirement, his frayed focus, his lack of commitment for a 12th world title, have run rife. And even when he comments publicly about those things, the media often spins his brief commentary into an opinion piece whose overall sentiment often is very different than Kelly's intended sentiment. I am as guilty of that as anyone. In fact, this film review may be just that, me attempting to read between the lines and analyze what Kelly is NOT saying, or perhaps even worse, I might be trying to psychoanalyze what Kelly's words and actions secretly reveal about his intention without him even knowing it!! And that's why we watch. That's why we follow and read his every post.
So, again, it seems that with this series, Kelly is trying to wrench that conversation back into his control. It seems that, while he cannot control the commentary, he can be honest, he can wear his heart on his sleeve, and at the very least control he can control his own content. That is my impression from the first 20 seconds of the piece.
There's a sentimentality to the piece that so charming. Kelly talking about the importance of his friendships with Luke Munro's family and how they comforted him after he lost his father. Kelly's thoughtful sensitivity and his intelligence has always made him more likable than other sports demigods that we revere. "Continuance" indulges us in that side of Kelly. After my 15 minutes spent watching, I feel like I know Kelly better, like I know him personally.
In one scene, in the shaping bay with Tomo, he's expressing frustrations about people criticizing his board selection at Snapper. He's like, "Everyone's an f-ing critic now days. Nobody points out the positive aspects about the board. They just want to criticize." His sensitivity about other people's criticisms are surprising to me and they are very humanizing. I'd assume that Kelly would just tune out the critics, especially in the modern world with Internet trolls, but it actually made me like him more. The fact that he's emotional about people's criticism shows a certain openness. It shows an introspection.
So while I loved all of that, and getting a deeper glimpse of our hero, I was a little saddened that the whole film feels reflective. He's talking about why the Gold Coast has been important to him over the years. It feels like a swan song, a farewell piece, something to document his final year on tour. While John John's 2016 series "Twelve" featured John talking about the future and what's to come, in "Continuance" whenever Kelly is talking about contests, he talking about past wins and looking at old trophies. The moments where he's discussing the future are about his wave pool, his board designs, not competition. This is perhaps unintentional on Kelly's behalf, but it's noticed by the viewer.
Unequivocally, the most passion that Kelly expresses through the entire film is when he's looking at forecasts and tracking swells around the globe. He even states that he abandoned his "boot camp" training regiment prior to Snapper to go surf overhead barrels. Todd Glaser, Kelly's photographer and someone you know from this show, suggests that that's a good thing, "While everyone else is riding small boards and prepping for contests, Kelly is getting shacked in overhead barrels. That's what keeps him inspired and motivated." Todd certainly knows better than I do about what motivates Kelly, but I'd have to wonder if that trip motivated Kelly to surf Snapper, or if it's just reflective of where Kelly wants to spend his time.
The surfing alone makes "Continuance" worth watching. The one barrel they show at his strike mission prior to the Quiksilver Pro is below sea level, he pumps and weaves through the entire thing, multiple sections and it's just absolutely insane. The contest footage from Snapper we all watched live, but these angles and slow motion really highlight Kelly's body mechanics, his response time to ways that the wave is behaving, and how his board is engaging with him and the water's surface as he rebounds off the whitewash after a cutty. It captivating actually. And it's kind of a testament to the limitations of judging surfing, as every wave surfed from this edit, appeared to be a 10. Flawless surfing by Kelly.
Now again, I can't help but psychoanalyze Kelly's headspace with this piece and as a lifelong Kelly fan and someone who wants to see him trounce JJF at Pipe, Filipe at Snapper, Mick at J-Bay, there are some painfully disheartening clues in this piece that point towards a 2017 exit from the World Tour. Clues that only further serve to hammer home sentiments I've shared on this show about Kelly lacking the focus required to win his 12th world title.
The most obvious clue is that "Continuance" feels like a knockoff of John John's series 12 that he published last year. JJF's was a 7 part series that ending up documenting his campaign to win his 1st world title. It was heavily centered around his contest performances, it showed him spending downtime with his family. It showed him in the shaping bay with Pyzel. It showed him darting off on strike missions between events. And it was punctuated by confessional style interviews.
Kelly's "Continuance" appears to have taken the exact same concept "Let's document an attempt at a title campaign". It's taken nearly the exact same structure of JJF's "Twelve" vacillating between the progress of the event, his down day exploring and his voice over about his headspace. And it even follows a similar shot list to JJF's film. That isn't a criticism. I loved "Twelve" and I like "Continuance" a lot, but it does illustrate Kelly following JJF's lead, which to me, speaks VOLUMES.
In surfing, in board design, in marketing one's self, and especially with his wave pool and Outerknown, Kelly has always innovated! We've never seen Kelly follow anyone else's lead. And I feel like in the past, even if Kelly wanted to do a video series documenting his world title campaign, if Mick had done it the year before, or even worse, if Andy had done it the year before, Kelly would have immediately scrapped the idea! He'd abandon it to spite Andy! And what's even worse is that 10 months after JJF launched "Twelve", he delivered on his promise and won the world title! Kelly opened "Continuance" by stating his intention to win the world title in 2017. Where does that leave the series if he doesn't win?
This following of John John's footsteps feels as though Kelly's already acquiesced his throne to John John. It's apparent that he doesn't view JJF as an adversary, as Kelly did with Andy. It seems as though he's okay following JJF's lead and that he views John John as a worthy successor to the throne of "best surfer in the world". And I like that. If Kelly feels that way, I agree with him. John John is the complete surfer and he has the "IT" factor. John John would make him a great representative of our sport, in the tradition of Duke, Shaun Tomson, Steph Gilmore, and Kelly.
But in order for Kelly to win his 12th world title, he needs a fiery drive and determination and he needs to view JJF as an adversary. He needs to want to demolish JJF.
And just as a post-script, the irony of ironies, John John's series was named "Twelve" because that's his jersey number. Hurley had t-shirts printed with the number "12" on them and everyone wore them while they celebrated John John's 1st world title in a champagne bath, Kelly among them, the very man who was and is striving for number 12 himself.
The film's final frame is a slide with text that reads, "Coming out of Australia, Kelly is in a challenging position. But that is what Continuance is all about: the perseverance and commitment between where we are and where we want to be . . ." End quote.
So . . . is "Continuance" a documentary of Kelly's 12th world title season or is it a documentary of Kelly's final season on tour. Is it both? Time will tell.
---
What JJF's series "Twelve" on YouTube HERE