While watching the final of the Rip Curl Pro, David and Scott discuss the highs and lows of the event. They then continue the debate about the decreasing market influence of the professional freesurfer, where David provides a social media popularity analysis. David then unearths Scott's very first episode of Surfer Magazine's "In The Line Up" radio show, recorded on November 2nd, 2005. They chat about how the show began and how it's grown. They also discuss Alana Blanchard's nude pics (The Fappening!), Chanel's Surf Commercial (featuring Brazil's finest export, Gisele!), Kelly's 540 (The Huey Spin!), Dane's filmer punking David, and oh so much more!
CATCH UP
Social Media Stats:
Alana reigns supreme. Kelly dominates the male's division. But most important to note, Dane Reynold's, arguably the #1 freesurfer in the world doesn't even crack 100k, and Luke Davis isn't far behind.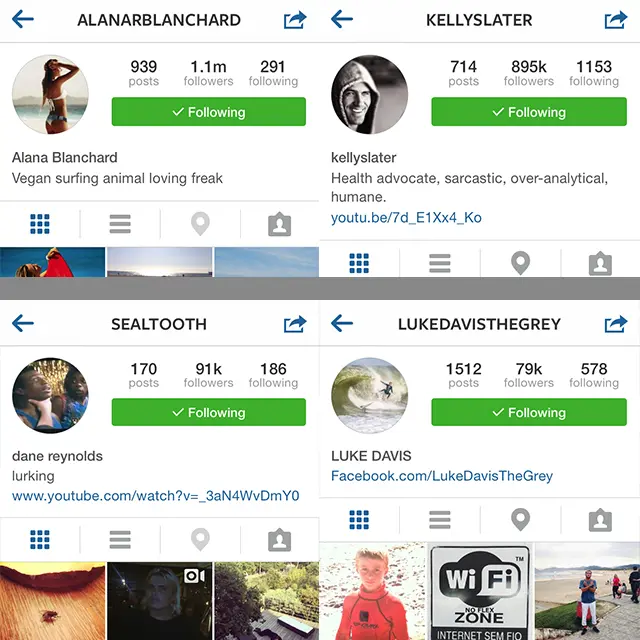 Steve Perry lead's the crowd in a sing-along.
THE RIP CURL PRO PORTUGAL
Congrats, Mick Fanning!

Gabriel's post heat interview after a round 3 loss to Brett Simpson.

Kelly's post heat interview after a round 3 loss to Artiz Aranburu.

David's first ever sighting of Kelly Slater wear sunglasses! I dare you to find another photo of him in sunnies, ever!
John John and Jordy had incredible form throughout the entire event. Thank you, gents.

Alana Blanchard and The Fappening
BeachGrit broke the news 1st: Naked Photos of Alana Leaked Online
Stab 2nd: Alana was a Victim of The Fappening
And TheInertia in a distant 3rd: Alana Blanchard's Leaked Nude Photos: Why You Shouldn't Click
That makes us a distant 4th 🙁
WEBLAND
Dustin Barca's FIGHTLAND

Red Bull's Qualifying series starts in a couple weeks.
The cringeworthy Chanel commercial featuring the magnificent Gisele Bundchen.

MINISERIES AND MINI-DRAMA
And another Ventura filmer, Norwell, apparently has a beef with Mini (as does David).
MUST-SEE MOMENT
Kelly's 540. The man is freak. Here's link to the breakdown, with Dane.

But why does he think it's a 810? Odd, and incorrect.
Day after the big air Kelly names it and say's it's a 810 degree air, he explains it here! @kellyslater #bigAir #GOAT #kellyslater @asp #ripcurlproportugal @peterkinglajolla
DUKE
Brett Simpson for derailing Gabriel Medina's world title pursuit and forcing the title to take place at Pipeline.
KOOK
CJ Hobgood for his faceplant into a rock caused by excessive claiming.

Also (not Kook related) check out this substantial injury CJ suffered during a freesurf. It forced him out of the event. Best wishes during recovery and we hope you have 100% health before Pipe!